SATURDAY, OCT. 28
Till Death Do Us Party! (Part 6)
Halloween 2017 | Scarborough, Toronto
Another year, another summer gone by. But, with that, we bring in one of the best party seasons of the year… 
October is here and it's time to gear up for "Till Death Do Us Party." This is definitely one of our biggest events of the entire year, we go the extra mile each round to maintain the title of the best Halloween party in Scarborough!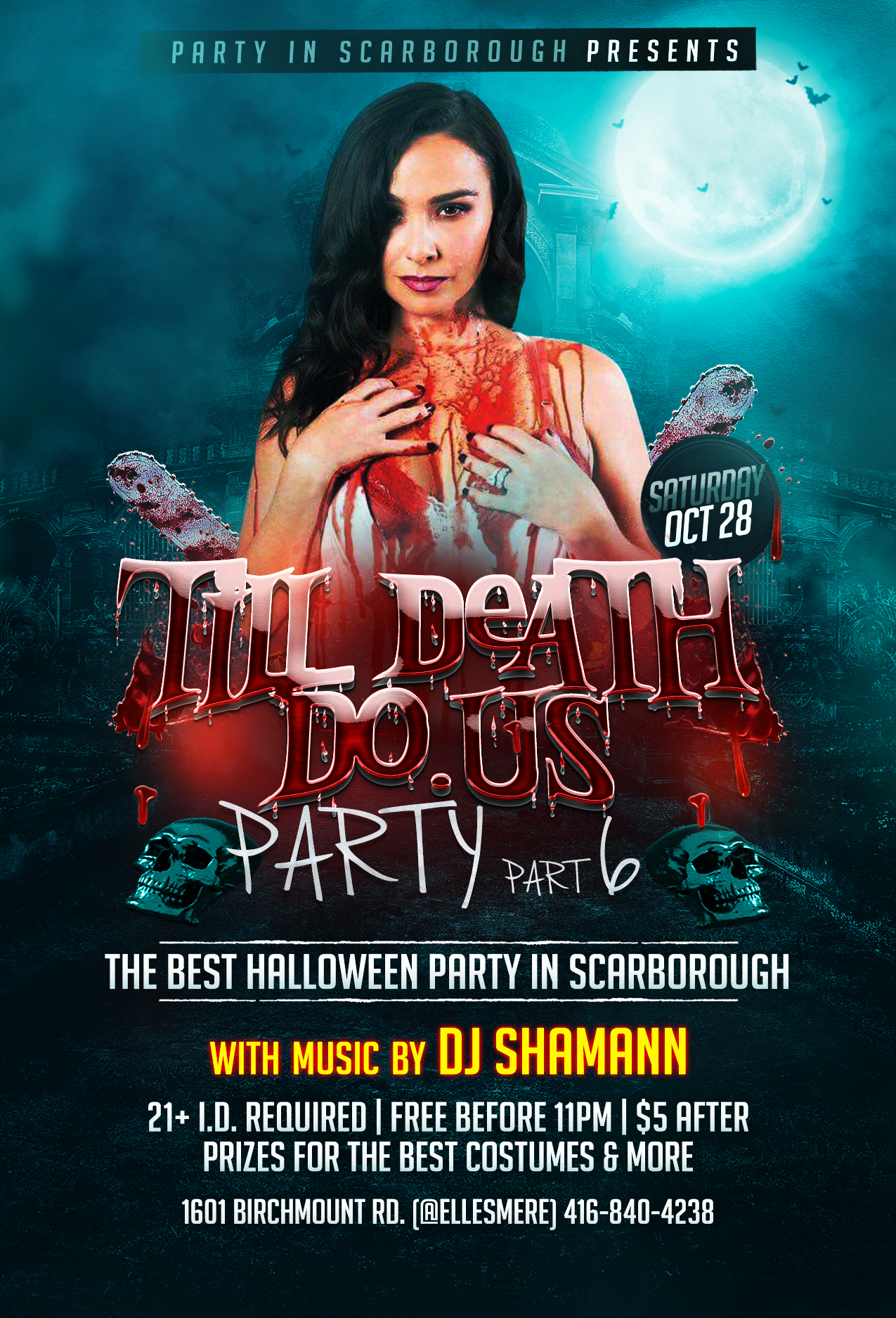 Music, Prizes, and a Party To Remember!
It wouldn't be a Halloween party without costumes, and we wouldn't expect you to put on your best with offering up some rewards for those who go above and beyond the rest, with their most creative entries for the year. That's why we always put together some great prize packs for the best, as well as the runner-ups. You can also expect some extra goodies just for being there. Our Dj is a bit Halloween obsessed and likes everybody to have a good time. Speaking of which…
As always, our resident Halloween expert, Dj Shamann is here to help you get your freak on with the hottest music from the 80s, 90s, 2000s and now. Featuring top selections across the board with your favourite (New School and Old School) Hip-Hop, R&B, Top 40, Reggae, Dance and party hits. Strictly big chunes for big people, this is for the grown and sexy!
Check Out This Old School Set From One Of Our Other Halloween Jams!

  (⬇ DOWNLOAD THE MIX HERE ⬇)

So Where's This Halloween Party At?
Kornerstones
Saturday, October 28, 2017
This year we return to our favourite place to party, Kornerstones. With a cool staff, chill atmosphere and plenty of people to hang out with, it's always our first choice for a special event. Grab a booth to the side to relax with friends and take in the night, or hit the dance floor and be at the center of the party. It's your vibe to choose.
Till Death Do Us Party Info:
Music by: Dj Shamann
Party starts: 10pm
Cover: Free before 11pm | $5 after
I.D. is a must! This is a grown and sexy event
Kornerstones Bar
1601 Birchmount Rd. (@Ellesmere)
Scarborough: Toronto, ONT
▼ Tell Your Friends About The Party! ▼