Little Hands, Big Hearts 2015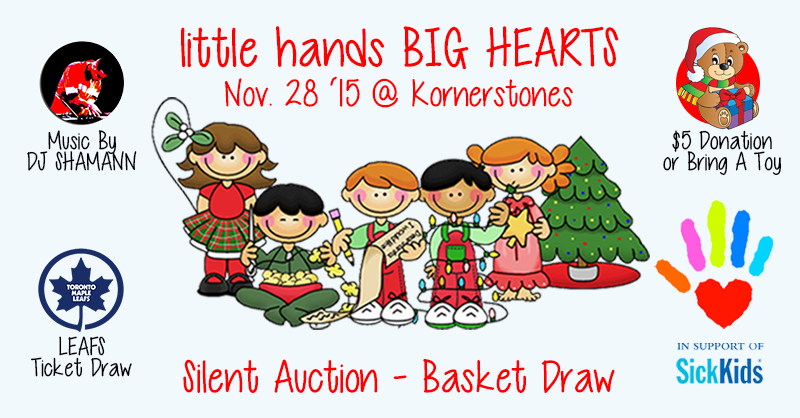 In Support of Sick Kids Hospital Toronto
This Saturday November 28, 2015 is the return of "Little Hands, Big Hearts" a charity event organized to raise awareness and rid kids of childhood cancer and disease. This year we meet at Kornerstones, a venue which is familiar to most who follow my parties, it's a place that welcomes our many diverse events as well as recognizes important causes such as this one.
Silent Auction | Leafs Ticket Draw | Basket Draws
Organized by my friend Terri Bourque, this is the second year I'll be involved with this cause and I'm glad to be a part of it. There will be a suggested donation of $5 at the door as well as other chances to help out. There will be a silent auction with various prizes, as well as a draw for Toronto Maple Leafs tickets. All proceeds from this event go directly to Oncology and Cardiac Care at Sick Kids.
Music starts at 10pm and goes until 2am.
Little Hands, Big Hearts 2015 (In Support of Sick Kids)
@ Kornerstones
1601 Birchmount Rd. (Scarborough)