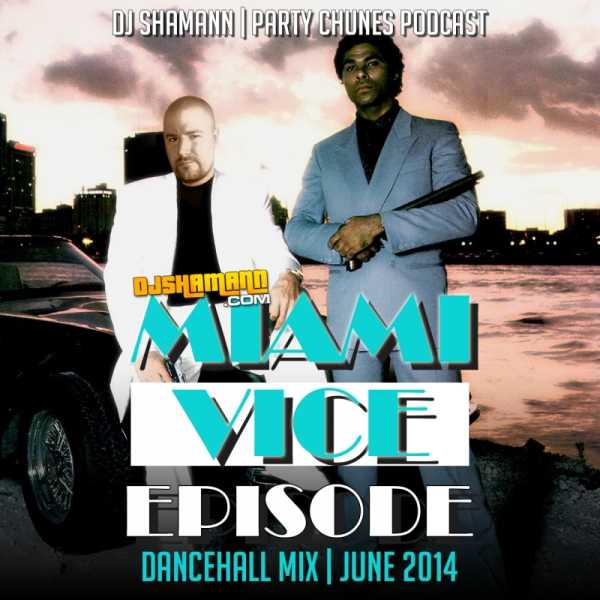 New series coming your way, I was gathering stuff to do a big summer mix but I knew it was going to take time. And, since I'm still feeling some of the stuff that's coming out, I decided to do a a quick mix and upload it for everyone.
Where I live Dancehall is a dominant force, so naturally people are always asking me to do do DH mixes for them, and I usually just tell them to go on my site, but I realized it's been a very long time since I made a "current" DH mix, so I decided to record this. It's a mix a very recent Dancehall "Party Chunes" for summer, nice vibes to drive to in the whip, listen to while getting ready for the club, or like I do.. BBQ to it.
Anyway, first up to bat in the new "Party Chunes Podcast" series… Miami Vice Episode.
Download This Mix
[sociallocker id="4818″]
[/sociallocker]
TRACKLIST:
01. Vybz Kartel – Miami Vice Episode
IGLOO RIDDIM
02. Trey Songz – Na Na (Dj Shamann Refix)
03. Vybz Kartel – You Want Me (Igloo Riddim)
04. Alkaline – Touch You (Igloo Riddim)
RVSSIAN RIDDIM
05. Konshens – Shake (Rvssian Riddim)
06. Sean Paul – Front & Back (Rvssian Riddim)
07. Vybz Kartel – Mamacita (Rvssian Riddim)
GUITAR STRINGS RIDDIM
08. T.O.K. – Burning Up (Guitar Strings Riddim)
09. Di Genius – Good (Guitar Strings Riddim)
10. Mavado – Model & Pose (Guitar Strings Riddim)
11. Lady Ali – Caan Bore Mi Out (Guitar Strings Riddim)
12. Laden – Nah Lie (Guitar Strings Riddim)
13. Serani – Over me (Guitar Strings Riddim)
14. Sean Paul – Dat U Like (Guitar Strings Riddim)
15. Sean Paul – Every Day (Guitar Strings Riddim)
16. Demarco  – Dutty Badmind (Guitar Strings Riddim)
GREATEST CREATION RIDDIM
17. Tarrus Riley – Greatest Creation (Greatest Creation Riddim)
18. Konshens – Don Dadda (Greatest Creation Riddim)
19. Shabba Ranks – Big Time Greatest (Greatest Creation Riddim)
20. Sean Paul – Dangerous Ground
21. Popcaan – Every Gyal Fi We
22. Demarco – Nice Nuh Bomboclaat
23. Serani – Wine & Kotch
BOOM BOX RIDDIM
24. Chico – Sexy Body Gyal (Boom Box Riddim)
25. Spice – Mi Like It (Boom Box Riddim)
26. Alkaline – Gyal Bruk Out (Boom Box Riddim)
27. Beenie Man & Ceegee – Roll Pan It (Boom Box Riddim)
PUNJABI RIDDIM
28. Alkaline – Love Doctor (Punjabi Riddim)
29. Konshens – Touch You (Punjabi Riddim)
30. Mavado – Diamond Look (Punjabi Riddim)
31. Spice – Snake Charmer (Punjabi Riddim)
32. Masicka – Sweet her (Punjabi Riddim)
33. Popcaan – Tie me (Punjabi Riddim)
WORK PERMIT RIDDIM
34. Beenie Man ft. Maria Brown – Infatuation (Work Permit Riddim)
35. Popcaan – Fall In Love (Work Permit Riddim)
36. Bugle – Love Affair (Work Permit Riddim)
37. Alkaline – Shegg Up (Work Permit Riddim
SEX MATE RIDDIM
38. Mavado – Tie Yuh (Sex Mate Riddim)
39. Vybz Kartel – Tun Back Way (Sex Mate Riddim)
40. Tifa – Out Of This World (Sex Mate Riddim)
UPTOWN JULIE RIDDIM
41. Zoelah – Sell Off (Uptown Julie Riddim)
42. Gyptain – Stunta (Uptown Julie Riddim)
MUSIC & RUM RIDDIM
43. QQ – Raise Your Bumper (Music & Rum Riddim)
44. Busy Signal – Wining Queen (Music & Rum Riddim)
45. Konshens – Not Going Home (Music & Rum Riddim)