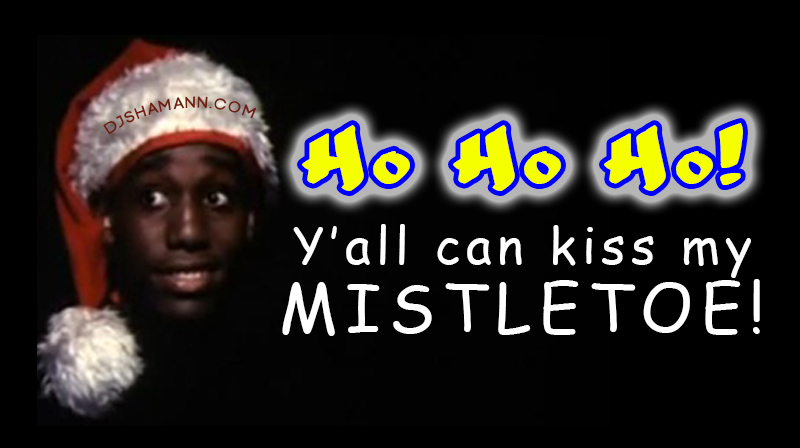 This one is going out to all of those who aren't big on "traditional" Christmas music, but want to shake up their holidays with a little bass, boogie and Jingle Bell beatbox.
I'm not going to order these because it really doesn't matter, but these are definitely 12 of the must play holiday classics for all the Hip-Hop lovers on Christmas Day! (some of these might be pushing the term "Old School" so we'll just call the rest "classics")
By the way, while the majority of these are just fun chunes for the holiday with light content, there are one or two songs on the list that come with a lyrics warning. But you probably knew that already.
Kurtis Blow – Christmas Rappin' (1979)
We'll jump start this sucker with the earliest recorded track on the list. Kurtis Blow set the stage with more than just Hip-Hop records on his first release, but Christmas raps as well as he dropped some verses over this well known funky bassline (90s kids are scratching their heads trying figure out where they know it from right now, but this is where it came from)
This is how Christmas gets started at my crib, so this is how we'll start it on my blog too…
 Fab 5 Freddy & Blondie – Yuletown Throwdown (1982)
This one is rare, featured on a flexi-disk for fans, it features Fab 5 Freddy rapping over Blondie's "Rapture" dub while Debbie Harry ad-libs (LOL). It's hilarious, yet awesome at the same time, and since I'm a fan of Blondie I had to add it..
Treacherous Three & Doug E. Fresh – Santa's Rap (From Beat Street) (1984)
Man, where do I even start with this one, a classic on so many levels. When I first wanted to start DJing as a young grade school kid it was pretty much because of this movie (Beat Street) and this has always been one of my favorite scenes, regardless of the time of year. This is like a very early "super group" of Hip-Hop all-stars featuring Kool Moe Dee, L.A. Sunshine, Special K and Doug E. Fresh…
Cutmaster D.C. – Santa's Beatbox (1986)
Next entry features a DJ (back when a lot of them still MC'd and vice versa) who didn't really have too many releases,  but with this mix of Christmas cuts and and sample, it's still a solid addition to this year's list…
Dana Dane – Dana Dane Is Coming To Town (1987)
The Kangol Crew vet and Slick Rick's partner in rhyme gets down with a little story telling Christmas style which makes it obvious he was a pioneer of the style in his own right.
Juice Crew – Cold Chillin' Christmas (1988)
Produced by Marley Marl and featuring heavy hitters like Big Daddy Kane, Roxanne Shante and M.C. Shan. This is a dope "posse cut" from The Juice Crew, getting down over the classic "Hip-Hugger" break from Booker T & The M.G.s (which has been sampled in countless Classic Hip-Hop)
Big Daddy Kane & Biz Markie – XXX-Mas Freestyle (1987)
Okay, this is not a real song but speaking of The Juice Crew, this definitely has to make an appearance. I'll warn you first though, as the title suggest it's a little X-rated but that's why you're reading this list to begin with, because you're probably not hear for Bing Crosby chunes in the first place. Anyway, check out this hilarious freestyle from Big Daddy Kane and The Biz, which is pretty much The Juice Crew's version of T3's "Santa Rap".
Eazy-E – Merry Muthafuckin' Christmas (1992)
Okay… so now that I've warmed you up with a little XXX-mas, you won't be absolutely smacked in the fucking face by this next one. This is not safe for work, not safe for Grandma or safe for anything other than a late night 40 session with your homies who are already well familiar with Eric Muthafuckin' Wright. Now that we got that out of the way, get ready because this song fucking bangs.
Snoop Dogg (& Crew) – Santa Claus Goes Straight To The Ghetto (1996)
Keeping it West Coast! "Christmas On Death Row" doesn't sound  like a fun place to be during the holidays, but invite Snoop Dogg and the crew and you've got yourself a party. Apparently even Suge Knight gets sentimental during the festive season because in 1996, he released a Christmas compilation for charity featuring his labels top artists. "Santa Claus Goes Straight To The Ghetto" takes you on a tour of the left coast with Tha Dogg Pound & Tha Eastsidaz over a fonky ass bassline for all the G's in the house… R.I.P. Nate Dogg
Reverend Run & The Christmas All-Stars – Santa Baby (1997)
Another super group shows up on the play list, this one from more than 20 years after the Treacherous Three's addition (and kind of pushing it for an "Old School" list), but still packed with some of the biggest veterans in the game. Throw it over another classic beat originally from The Fugees "Nappy Heads (Mona Lisa)" and you see why it deserves a spot on any classics list.
The 69 Boyz – What You Want For Christmas (1996)
Let's add a little bass to the mix shall we? This one is from the Quad City All Star Christmas featuring The 69 Boyz, running through a list of things they want for Christmas. Of course blunts, bass and booty are a priority for any Quad City Christmas.
P.S. (Don't mind the Ashanti thumb on that video, it's just one of the pics the uploader used.)
Run-DMC – Christmas In Hollis (1987)
I had to save this one for last, yeah everyone knows it and it's probably on every Christmas Hip-Hop list ever made, but there's a reason for that… because it's the one of the greatest Christmas tracks ever made, Hip-Hop or not. So even though I didn't put this list in an official order, this is still going to sit in the number one seat.
Now excuse me while I go watch Die Hard… Merry Christmas everyone!

If you like this list of Hip-Hop Christmas classics, please share!