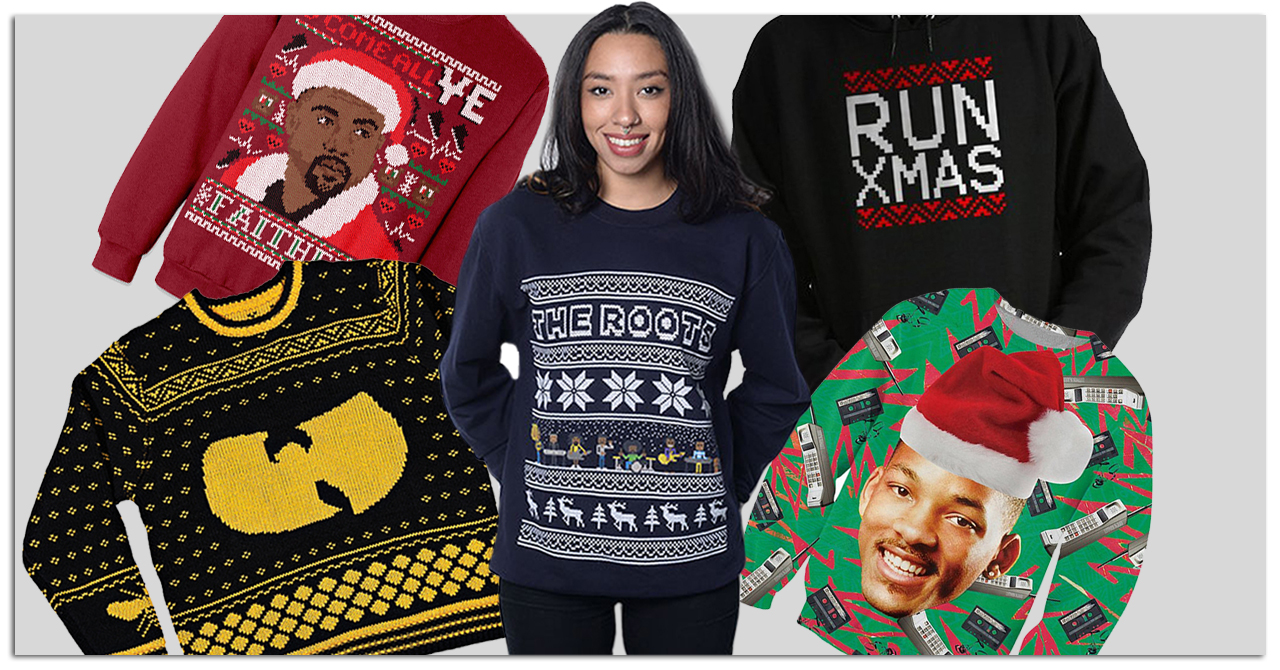 Hip-Hop Ugly Christmas Sweaters
12 days of Christmas, 12 Hip-Hop themed ugly Christmas sweaters. Most of you know I hold an annual Ugly Sweater party, and those of you that don't know me will probably have your own jams to go to. Thing is, regardless of our location we're all music lovers, but when you look around there really isn't much in the way of gear for the Hip-Hop heads.
So much like my 12 Raps Of Christmas: An Old School Hip-Hop List For The Holidays, I decided to put together a guide for Hip-Hop Ugly Christmas sweaters. Hopefully it will inspire you on your outfit search, and you can win that best sweater prize at the end of the night.
Hotline Bling Ugly Christmas Sweaters
Probably one of the most viral and funniest memes of late 2015. Drake's video for Hotline Bling inspired countless parody videos and pics (like my own Halloween bling version), and it was all at the expense of Drake's less than stellar dancing.
A lot of people may not have been laughing "with" Drake on that one, but it's alright  because I'm sure he laughed "at" everyone else, all the way to the bank after the popularity of the meme drew so much attention to the video.
Will Smith Fresh Prince Ugly Sweater
The 90s were all about loud, bright and colorful outfits. And who wore the loudest of them all? The Fresh Prince of Bel-Air himself, Will Smith.
With neon sideways hats and acid wash overalls, this guy was the walking Hip-Hop version of the "Saved By The Bell" intro. I'm not trying to pretend I didn't wear some silly shit back then too, I'm just saying who better to represent the spirit of crazy looking sweaters than this guy right here?
The Roots Crew Holiday Sweater
Speaking of the 90s, around mid decade this band (who had already been around a few years at that point) dropped "Do You Want More" and "Illedelph Half Life" which brought Hip Hop listeners to a deeper level of appreciation for live instrumentation.
Any respectable Hip-Hop head already knows about their contribution to the music, so I'll just leave this one for the True School fans to check out.
Wu-Tang Clan Ugly Christmas Sweater
"Wu-Tang Clan Ain't Nuttin' To F*** Wit" and neither is this sweater. To be honest I'd probably rock this one outside of the holidays (didn't I tell you I was prone to rocking some wild shit myself?) it's like a Shao-Lin Coogi.
This black and yellow joint will have you yelling "Wu-Tang killa beez on the swarm!" all night. (Bonus if you're also partying at your college-ass Disco dorm)
Notorious B.I.G. Coogi Sweater
That's right, I said Coogi. If you're going to an Old School Christmas jam, why not take it back B.I.G. style? Depending on whether you go vintage or the latest, you can get a Coogi anywhere from $60-$600.
Check out these links below to see what works with your style.
Run DMC Ugly Christmas Sweater
It's Christmas In Hollis and it's time to represent. Either that or you're just at the crib watching Die Hard and can't get enough of the soundtrack.
Either way, this dope Run-DMC ugly Christmas sweater is for both the Old School Hip-Hop heads, and the new fans keeping the Adidas and Cazal styles alive.
Hip-Hop Ugly Christmas Sweaters: For The DJs
I had to include something to represent my people with these joints here. Yeah they look ridiculous, but that's the point of an ugly christmas sweater party. To put on a blinking Santa hat, a sweater that looks like it's from 1984, throw on some big chunes and vibe to the bassline all night.
Ugly Christmas Sweaters: Just For Fun
Like Miami Bass and big booty chicks? Not sure this is what Uncle Luke had in mind when he wrote that classic all those years back, but it still works for me.
Okay, not really Hip-Hop but we've been doing a lot of Old School stuff and Iron Mike Tyson was as big as it got in the late 80s/early 90s.
He was also known to be in a lot of rap videos and Hip-Hop themed movies at the time, so that's my excuse and I'm sticking to it.
Ugly Christmas Sweaters: Kanye West & Kim Kardashian
Okay so THIS one is about Kanye. I saved the best for last, and yes I know Kim K has nothing to do with Hip-Hop either, but she is married to "Dr. West". So I figured you can either go solo and rock "All Ye Faithful", or double with your girl and be a strong contender for the top prize of your night. Just don't break the internet with your victory selfies afterwards.