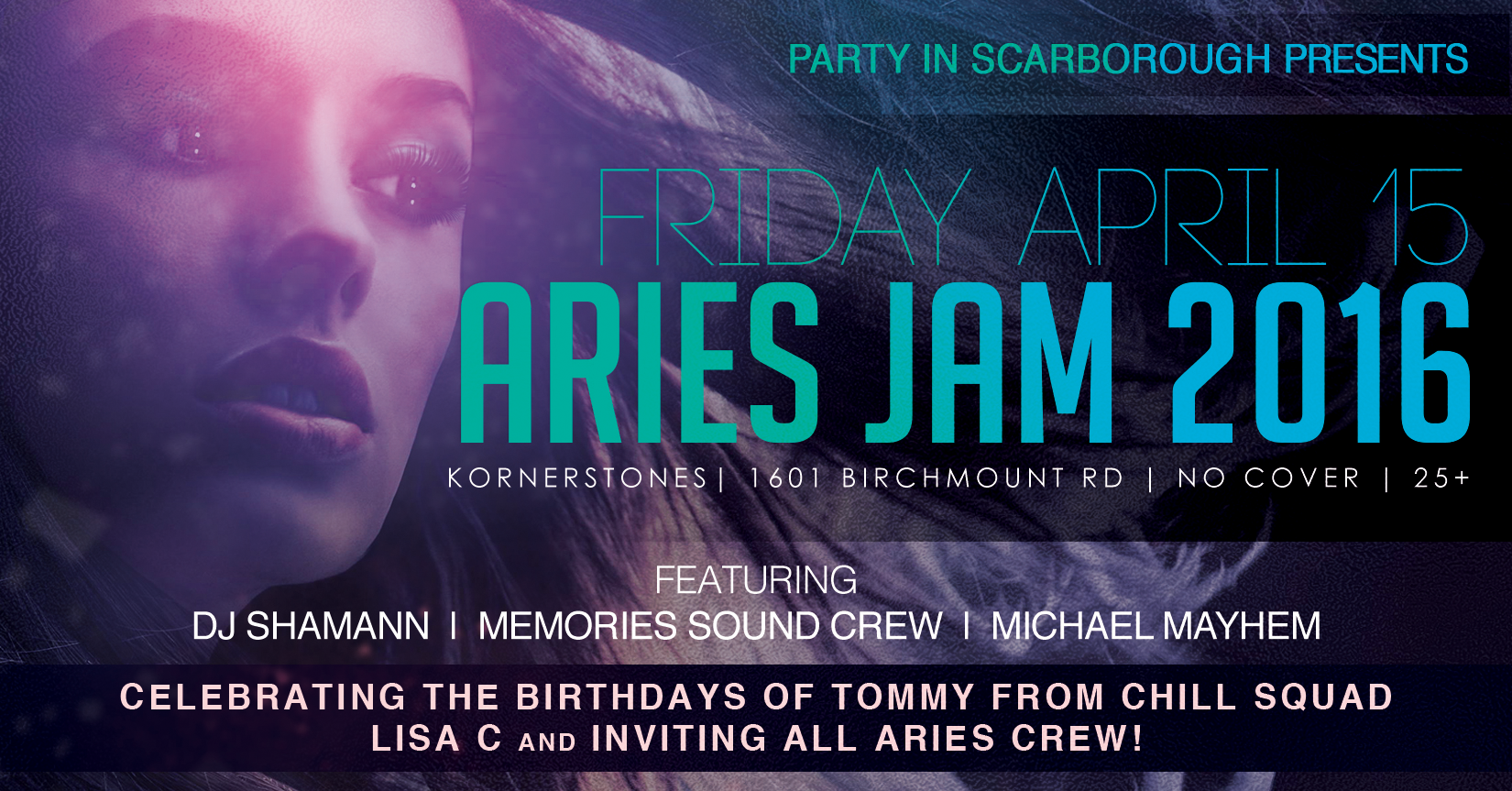 A party in Scarborough for everyone born between March 20 – April19
Calling ALL Aries birthday crew! It's about that time to gather for one of our biggest parties of the year, it's Aries Jam 2016 and you're all invited! Year after year we do it big for the zodiac jams, but this is one of our favs as we're also celebrating with one of our own Party In Scarborough DJs, shout outs to V.I.P. birthday host, Tommy from Chill Squad!
All Genres | All Hits | All Night Long
Dj Shamann | Michael Mayhem | Memories Sound Crew | Chill Squad
With a big line up of DJs, we keep the music bumping all night long with a no holds barred attitude on how deep we dig in the crates. With a mixture of New School, Old School and timeless party anthems, the energy is non-stop from start to finish as we cut, blend and mash up your favourite chunes the best way we know how.
★ Hip-Hop | R&B | Old School | Reggae | Top 40 | Funk | Skate | Classic House | Party Anthems & More★
So join us on Friday, April 15, 2016 for ARIES JAM!
It all goes down inside the Party In Scarborough headquarters, Kornerstones, a place with a cool vibe and chill atmosphere. As always, drink specials are plenty and you can always get there early to enjoy a bite to eat and fuel up for the party. Whether you grab a booth and hang out with friends or hit the dance floor and groove the night away, it's always a good time around The Korner.
Chill Squad | Mix From The Six
Dj Tommy spinning a classic Hip-Hop set from the Chill Squad studio.
Kornerstones | 1601 Birchmount Road (@ Ellesemere)
No cover | Mature clientele | 21+ I.D. is a must